This post may contain affiliate links. As an Amazon Associate, I earn from qualifying purchases.
What Is Qmee?
Qmee is an app that you can use both on your smartphone and your computer. It was founded in 2012 by  Jonathan Knight and Nick Sutton. They determined to revolutionize the way people and brands connect. Their headquarters are in both London and NYC.
Qmee is best known for being a survey app. However, it also has offers, a search engine add-on, and a daily poll. It doesn't offer the ability to earn by watching videos, but some surveys ask you to watch.
How Do I Use Qmee?
You download Qmee from the Playstore, the App Store, or their website. Be sure and fill out all your account and profile information, as this helps Qmee provide you with better surveys and offers.
I'm using a Chromebook, so this is my screen when I first log in.
You may not be able to see it very well, but the boxes in the top right corner are 1) a warning not to fill out your home address or phone number or full name on any survey, and 2) a reminder that Qmee would like to send notifications.
The boxes below are all links to surveys. The type of survey, the expected time it will take to complete, and the reward are all listed on each box.
When you click on a box the survey opens up. Just answer all the questions until you get to the end. Make sure you don't leave your exact contact information or full name on any survey.
If you get kicked, don't be offended. Surveys on any and all apps will kick people for the following reasons:
The number of surveys required was complete before you finished.
They have enough filled out by people of your race, age, size, sex, etc.
They have enough filled out by people in your type of area, e.g., rural or city, state, zip code, etc.
You didn't meet the right qualifications; maybe they need someone who drinks whiskey or smokes electronic cigarettes or owns a house.
They feel you have contradicted yourself; your zip code doesn't match your state. I'm sure they know some people accidentally tap the wrong answer, but they can't know for sure.
When filling out a write-in box, maybe you didn't have enough words.
Be careful when selecting offers. Don't be suckered into buying something just because of the reward. You may pay more than you win.
Some so-called free offers will end up loading you with spam emails and possibly even phone calls.
The search engine rewards work with Google, Yahoo, or Bing; you need to install the Qmee add-on. Instructions are provided and are very easy to implement.
When You Get Rewards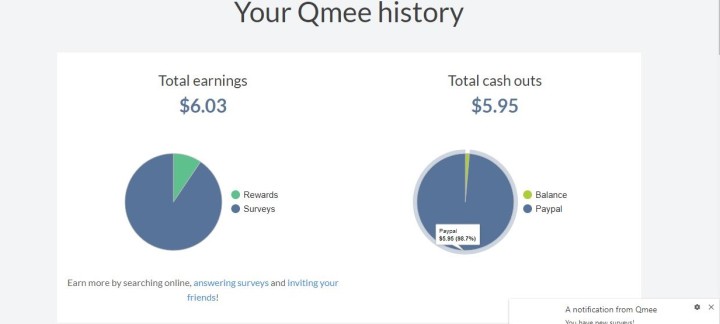 For surveys, you get your rewards immediately.
Each reward is different. Search engine rewards are paid when you see that it has been a paid search.
When you're ready to cash out Qmee will either load it to your PayPal account or donate it to the charity of your choice. Qmee does not take any of the money out as a fee or commission when you donate.
So, if you see money in your piggy bank, it's yours to withdraw. That's the shortest wait of any survey app!
Is Qmee a scam? NO!! People have withdrawn hundreds of thousands over the years.
I've already donated 92 cents to a charity, just as an experiment. (Aren't I generous?)
Here are the available charities Qmee will donate to:
 American Red Cross
Intrepid Fallen Heroes Fund
Lymphatic Education and Research Network
Well, that's not a huge list, but Qmee will consider other charities for specific donations. You just need to ask.
For information on my favorite way to earn longterm money, CLICK HERE.
Well, this has been a nice short review. What did I leave out? Do you have experience with Qmee? Let me know your thoughts and questions in the comments below!